Come on in! This is the first post here for the new Bloghouse. Let me introduce myself. I'm Lee and what I do here is take a look around the world of football to see what's happening, what makes me laugh and what ticks me off.

The Bloghouse turned a year-old this week but this is the first post here. to check out some of the old Bloghouse content, CLICK HERE.

There is no guy named Tino. That is short for There is No Offseason, our Football Fansite. The site just turned a year old (as you can see with the young ladies on the below). We are in the process of revamping the home page so if you check it out look past that please.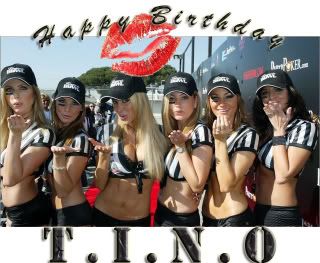 Things you will find at TINO...
***A group of knowledgeable guys who love the game.
***The Forums. Forums are free so just sign up! Of course this covers football but you will also just have guys hanging out talking about whatever comes to mind. We nominate and vote for the TINO Cheerleader of the Year and currently have the 2007 Tournament of Babes voting going on. If interested you can jump in on these at anytime.
***The Bloghouse: A daily (when possible) blog where we take a look at what is going on around the football world and pass it on to you. Filled with football related links.
***
The Sports Bar Directory: Ever travel and not know where to go to catch the game? Our vision is to compile a list of Sports Bars that can help the rabid fan out. As you know, we live in a big country so it's a huge help to have people submit their favorite places.
***Fantasy Games. We currently run a Re-Draft, Dynasty, Dynasty with IDP's Fantasy football leagues based at TINO. We are forming a Auction/Keeper league as you read this so if your interested look for the Auction/Keeper forum in the message boards. For the "offseason" we have our first year of Fantasy NASCAR running to pass the time. We will have a NCAA BB Bracket. During the season we also have NFL Pick'em, NCAA Pick'em, and an NFL Survivor game.


So stick around and enjoy your stay at TINO!