JaMarcus Russell
QB, LSU
6-6, 263 (varies on where you see it)
40-Did not run at the combine. 4.8 at LSU Pro Day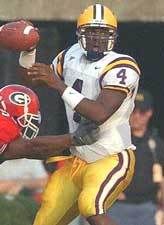 JaMarcus Russell is a huge QB that has shined since getting the starting job at LSU. 25-4 record as a starter. He has a 61.9% completion percentage with 52 TD's to 21 INT's. In the 2007 Sugar Bowl he led the Tigers to a 41-14 win over Notre Dame and his draft nemesis Brady Quinn. His performance made him the Sugar Bowl MVP. Russell could have set his draft fate in stone with his dominating Pro Day performance.

Russell is what you can call a beast. He is big, strong and hard to bring down. He can take a hit and still make the throw. Has great body control. He is athletic and can run as needed. Even on the move he is looking down field for the big play and will go underneath if the play is there rather than run. He is very intelligent and has shown he can be a leader in tight situations. Can rocket the ball down field with a flick of the wrist. Russell could have set his draft fate in stone with his dominating Pro Day performance. He dropped nine pounds from his combine weight to his Pro Day scale hop. Character issues are not a problem, in fact he made national news helping after Hurricane Katrina.

Weight seems to be a cause for concern for some scouts. He is still considered a bit raw. His accuracy can use improvement and he tends to force the ball with over confidence. Work ethic and the will to win have been questioned.

The biggest comparison is to Daunte Culpepper. Some think that Randy Moss made Culpepper as a QB and he may just get to have the chance to help Russell shine. At this point the magic 8 ball would say, "All signs point to yes," as far as if the Raiders are going to take Russell with the #1 overall next month. It certainly is not a slam dunk though as WR Calvin Johnson's stock is rising rapidly.

Some quotes from Raiders Coach, Lane Kiffin after his Pro Day workout.


"Being away from these receivers and to come back and throw as well as he did shows who he is," Kiffin said."He was 265 at the combine," Kiffin said. "Dropping nine pounds knowingthis was a big day shows his commitment and shows that his mind's in the right place."

On Russell saying he could have done better in some spots...
"Obviously, there's always a lot of room for improvement," Kiffin said. "That's what you want to hear a quarterback say, too."
If the Raiders did by chance take a pass on him, there are plenty of other teams that would love to have him. The Lions, Dolphins, Vikings, and Browns are said to be in the market for a franchise QB if the right guy is there at their pick.
Fantasy Outlook: For 2007 things are bleak if he lands with the Raiders. At the most he may be a bye week filler or injury replacement. Will likely go late or undrafted in re-draft leagues. In Dynasty and Keeper Leagues Russell will be sought after. Depending on where he lands will determine how soon and how much he will produce.
TINO's Bloghouse
tag:
nfl
,
draft
,
sports
,
football
,
ncaa
,
lsu
,
raiders
,
lions
,
browns
,
vikings
,
fantasy football
,
jamarcus russell